Karuna Foundation Netherlands is located in the same building as GiesbersGroep, our most important donor and source of inspiration. Being two different organisations – one profit and the other non-profit – we share the same philosophy, the Blue Guideline, as well as other principles, such as an entrepreneurial- and people oriented approach and ongoing improvement.
Karuna Foundation Netherlands has one paid fulltime employee, director Betteke de Gaay Fortman. Additionally, a number of experts advise and support us on a freelance and voluntary basis.
In Nepal, a local organisation was established in 2007. Under the management of Deepak Raj Sapkota and Yogendra Giri, Karuna Nepal grew into a strong, locally rooted organisation with 60 committed, competent and mostly university educated Nepalese professionals, who spend much of their time in the villages with our target groups. Since 2016, Karuna Nepal is an independent organisation with a local board and diverse sources of funding. Karuna the Netherlands and Karuna Nepal work together for the upscaling of Inspire2Care in Nepal.
Management

Betteke de Gaay Fortman is Director of Karuna Foundation the Netherlands. She has international experience from her own company in Spanish language services and as the director of the De Waal Foundation.
"I feel privileged to be part of the growth of an organisation that is reaching more and more children with disabilities and their families.  There are many challenges that teach me a great deal every day."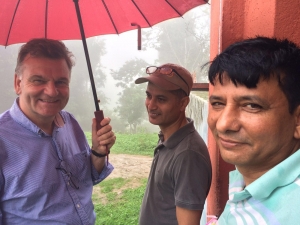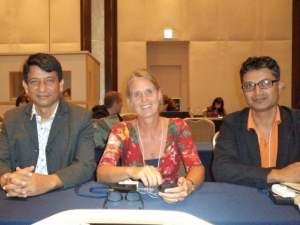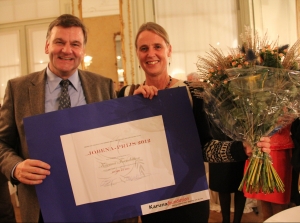 Board
The Board consists of R.T.T. aan de Stegge (Chairman), A. Kasdorp (Secretary) and H. Timmer (Treasurer). The role of the Board includes developing and controlling the policy and the implementation of the projects. The Board Members do not receive any compensation for their activities. The chairman of the board visits Nepal once a year, together with the director.
René aan de Stegge is an entrepreneur and owner of GiesbersGroep, and is the initiator/founder of Karuna Foundation. With his pioneering spirit and entrepreneurial experience, he wants to contribute to better and more sustainable health care services in rural villages. As chairman of the board he is intensely involved in the policy and implementation of Karuna's programs.
"Building on my experience as an entrepreneur it is a thrilling challenge to contribute to our principle goals of decreasing the number of disabilities and a better life for children with disabilities and their families."
Toon Kasdorp was a lawyer and partner at law firm Houthoff Buruma.
Huub Timmer is a financial controller and works for several companies as an independent entrepreneur.