This is the Youth Club of young people with a disability in one of the pilot villages in Sunsari. The youth gained a social life and discovered their rights and strength and organised
with help of theater awareness raising meetings for their fellow villagers.
Planning
Timeline and overview activities
The timeline below gives an overview of the progress of the program focussing on the three program components:
Strengthening government health institutions and adoption DPRP by the Government (brown)
Community Based Rehabilitation (CBR) (orange)
Prevention of disabilities (blue),
Batch 1 started officially in January 2020 in 27 municipalities, while batch 2 started in July 2020 in another 31 municipalities. The light colours indicate the original planning, the dark colours indicate the actual planning. Although we see a delay in the start of activities in 2020, the KFN team is confident to catch -up and finish their role in the program in 2023, as planned.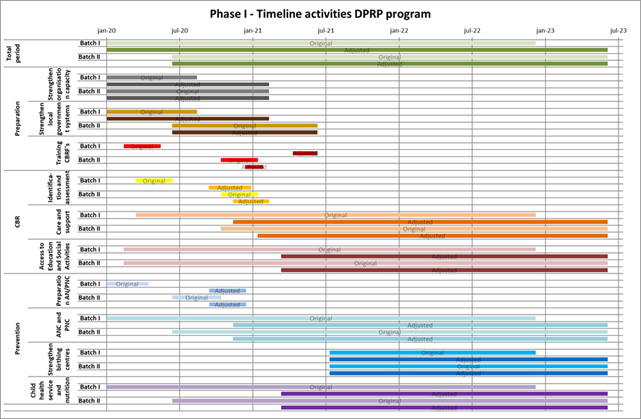 Under the heading of Preparation, we distinguish two type of activities: strengthening the capacity of the KFN team (in grey) and strengthening local government system (in brown). The training of CBRF's is pivotal in the last one and hence indicated separately (in red).
The table below gives an overview of all program activities and indicates in bold the ones implemented till March 2021:

Strengthening capacity Karuna staff to support local government.
Establishment of three new teams of 6 persons at the offices in 3 new districts (batch 2).
Two staff members left because of study opportunities abroad (Ram and Anita) and were replaced by Krishna Prasad Sapkota (M&E) and Rashmi Paudel (program management).
Archana Pokharel Rimala, Clinical Psychologist, has been added to the team at the Provincial office to strengthen the program on mental and psychosocial disabilities.
Mr Santos Ghimire started as the new manager of the Training and Resource Centre (TRC).
All new staff were intensively trained in the program content, approach and working culture.

Strengthening local government system by Karuna staff
Orientation to Chairperson/Mayor about the programme at Provincial level including EO.
Training elected bodies about DPRP programme incl. health facility staffs at Village level.
Annual Planning Workshop and Agreement with Palika.
Review meetings at Palika level.
Furniture and equipment support to CBRF office.

Training CBRF
Recruitment and

training of CBR Facilitators

.
Monthly meeting of Health Facility charge and CBRFs.
Support to Programme Focal Person and administration.
Capacity building (incl. financial management) in Palika' s.

CBR: The following activities are organised by CBRF's, supported by Karuna staff:
Identification and assessment: (month 6-7)
Identification of person with disability- By CBRF.
Disability Assessment Camp (by multidisciplinary team; doctors, physiotherapist, orthopaedics etc.).
Rehabilitation Plan, Profile development and update.

Care and support to improve Health Status of Person with Disabilities (month 8 onwards)
Home visits.
Home based primary rehabilitation therapy.
Medical treatment support and follow up.
Support with assistive or protective devices.
Nutrition support.
Training and transfer of skills to parents and care takers.
Support to self-help groups led by persons with a disability.
Development physio centre (year 2)

Increase Access to Education (month 8 ->)
School enrolment support.
Training to teachers and ECD facilitators on inclusive education.
Home based education services (formal and non-formal).
Empowerment of Family and Person with Disability
Formation and meetings of Milijuli groups (self-help groups).
Formation and meetings of DPO.
Leadership Development and Saving and Credit Mobilisation training to Milijuli group.
Leadership Training to Child Club.
Social Activities (month 8-11)
Orientation on Disability and CBR to community groups.
Celebration of International Disability Day.
Formation of inclusive Child Club.
Meeting of Child Club.
Peer Education Training.
Extra-curricular activities in Child Club.
Livelihood program (month 10 ->)
Vocational and Skill Development Training.
Seed Capital for self-help group.
Support Passbook and Register to SHG.
Support for access to identity card.
Formation of cooperatives for Persons with Disability.

Prevention activities: by health centres and female health volunteers:
Preparation AN/PNC: (month 1-4)
Orientation on Best Wishes Programme to Health Facility Staff.
Provision of mobile phones for:
All Female Community Health Volunteers.
Health Facility and Gateway.
Marriage registration (information card).
Pregnancy tracking and registration by FCHVs.

ANC and PNC: (from month 4 onwards….)
Sending messages and follow-up ANC and
Introduction of best wishes programme at (R)M and register.
Folic Acid Supplementation to newly married women.
Orientation of local health workers on Folic Acid Supplementation to newly married women.
Community Based Birth Defects Surveillance of Birth Defects.

Strengthening birthing centres (start year 2)
Strengthening and supporting establishment of birthing centre (including 1 ultrasound machine/Palika).

Child health service and nutrition (start from month 3)
ToT to health workers on school health screening camp to identify malnourishment and disability.